An Interview with Pushkar Raj Sharma by Hon Hoang.
"It's the moment, the scene and its potential to make a good or a great photograph that can be cherished like wine."
Pushkar Raj Sharma, a Street Photographer from New Dehli, India explores his world through introspection and showcases it through his photography. His projects and photography are a reflection of his state of mind. Whether it's his search for identity or trying to understand what lies in the shadows, his projects are brought to light through his desire to express himself.
What were some of your early experiences with photography?
To be honest, like many others , I started photography because it's cool to own a DSLR. Going into city photowalks, showing off daily photos on Facebook. I have no shame in accepting that it was all crap!
What does the phrase "honesty in photography" mean to you?
Well, you can take 1 photograph, maybe a couple more, but what will you do next? Honesty in photography, at least, to me and in my genre of street photography is purely candid. There will be failures, there will be disappointments, but commitment and self motivation will keep you going.
I do photography for myself, for my inner-self . I do not expect interviews to be published about me, having my work published online or winning competitions. If I do get some recognition, I am happy to oblige, but that is not what I aim for. I aim for finding moments on the streets that no one else will see. I anticipate that I will be able to capture moments and life on the streets to give my photographs meaning.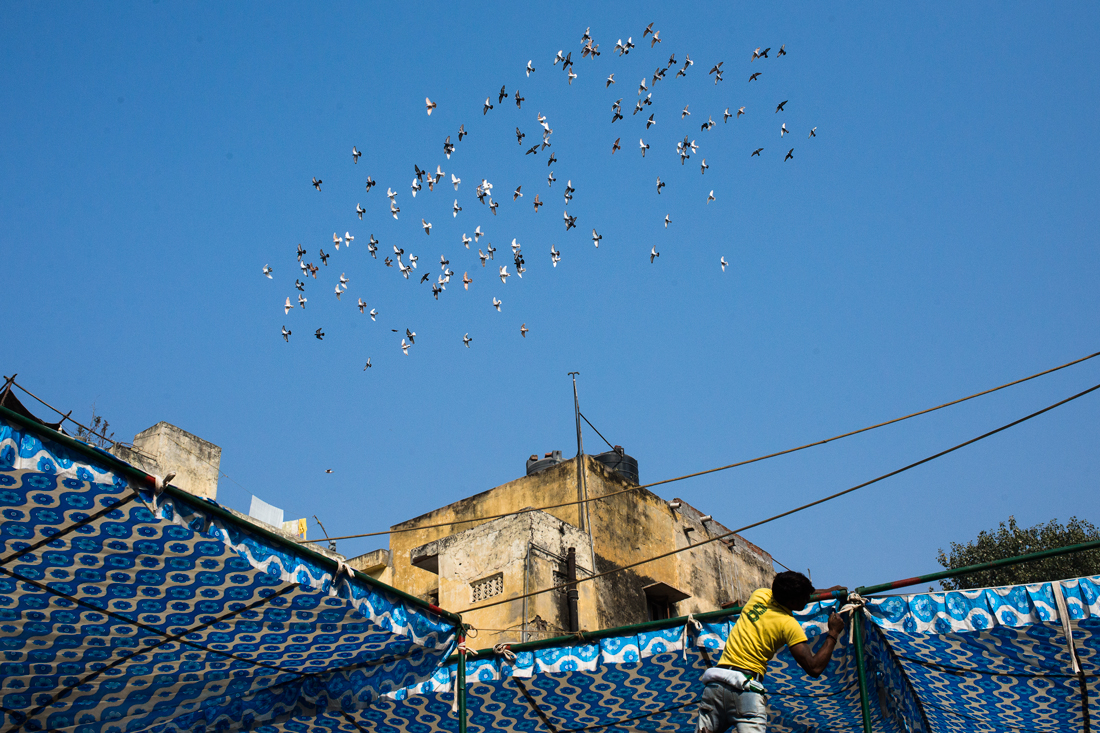 What is it like living in New Delhi? What are you trying to show others about the place you call home?
Delhi is the capital of India. Indian culture does not comes from this place. It's a metro city, people from all across the country come here and settle for work. It's like the New York of India.
I am trying to capture and showcase moments that I see and feel on the streets. To show the richness of it's culture and the variety of life that Delhi can offer. Combining sets of photographs into short meaningful bodies of work that collectively conveys a message.
I do like individual photographs, but I always feel that a body of work is much more powerful than a single good street photos.
What draws you to the subjects in your photographs?
It's the moment, the scene and its potential to make a good or a great photograph that can be cherished like wine.
I always feel the potential in the moment and work the scene. Many times I get a shot, but I still continue to shoot and work the scene until the subjects fade/depart away. Most of the times during edits for the final shot, I realize that I kept shooting even If I had a strong shot that I wanted from the scene.
It's nothing new, if you refer to Magnum contact Sheets of all the great photographers, this has always been the case.
How do you blend in so your subjects don't react to you and your camera?
In India, everybody wants their photographs taken. If they don't smile in the photograph, that means it's not good yet. People react in different ways.
Children want group photos, others want individual shots. But you learn this over the time. Ignore, offer some photos, and sometimes just stand there for a long time until they set back into their own routine.
Many back areas and small shops think I am from the press. They think I will take these photos back to the media and someone will take action to stop their business/shop/work. I try to convince them that I am a student, practicing my assignment
What is your process like when you take photographs? Do you have a goal in mind or do you wander until something catches your eye?
The street is unpredictable. I started to wander looking for moments, it's random. But that doesn't inspire me anymore. I have a project in my mind and start going to places where I will or may get shots for my project. That keeps me inspired.
What was your inspiration for Losing Identity?
It was my inner self. Rather it was an experiment when I started street photography to try to make an identity for myself in a Street Photographer's world. I was at zero, starting from scratch. That's where the concept came from, making an identity.
I believe one loses identity first in order to make one. Losing identity was a fun project. Some of the stronger photos like Man holding Orange ,Pink Tissue, and Heart balloon on the Face are my all time favorites.
How much of the tension and emotions of a situation affect your photography?
It does affect a lot. Delhi, though is quite photo friendly, but the upper class especially around bars in the evening can be very rowdy and uninviting. However, there is always a win after you conquer your fears.
After seeing what the Magnum guys did in war, boogie with the mafia, and bar brawls, other uninviting situations should be nothing. I always try to find a comfort zone while working a scene. But there are times when people do not like me to shoot and wants to stop me or move out of the scene. I have heard abusive language while shooting …but if I get my shot, it's worth it.
What was the most tense moment you have experienced? What did you do in this situation?
While shooting a scene in Delhi, near my home for my latest project Half Dark Worlds, a guy almost grabbed my camera. He wanted to throw it and break it. I did argue for a bit and then had to leave the scene early. After all, my camera is my life.
How do you come up with ideas for your photo-series? What are you currently working on?
They are incidental, but becomes personal when I pursue them. They are either personal contemplations or have a meaning to me.
Losing identity was while wanting to make an identity for myself. Jama Masjid stories were a personal contemplation of being Hindu inside a mosque.
I was avoiding tourist spots to avoid any touristy or travel photos. Going to the same place and markets have almost made me blind in old Delhi. I do not see any more shots there. I am very bored. So I thought of going to tourist places, but to find unique photos that are not touristy and non-travel. This became my new project. I am currently working on a set of photos from tourist places, but finding unique, weird, emotional moments that makes life in such places a bit different.
Rather than depicting the same old places with a unique point of view. Delhi is full of tourist places and I am enjoying this new vision. I want to continue going to such places and find a different vision for myself.
How do you decide which projects you want to share and how do you go about sharing it?
Generally, I do not advertise much. As said before I do photography for myself. But some forums like 121clicks and my Instagram page are great places to share my work. Lot of people, forums reach out to me to have my work publish on their platform.
I want to raise my level of work. Give myself a new vision, a new dimension of looking at things and making stronger projects/body of work. I hope I live up to my expectations. If someone can give me more suggestions they are welcome. I am bad at advertising myself.
Would you have any advice for aspiring photographers? If you had to start all over again, what advice would you give yourself?
Do it for yourself. Do not run for fame and do not waste time on showcasing on social media. Dedicate more time shooting and less time showcasing it.
I am a working IT professional and have a family to support, I dedicate much less time than I should. I am blessed with a daughter of 6 months old. Most of my time goes into household stuff and family. I wish I started my street photography when I was single and much much younger in age.
Also earlier I fell into the trap of showcasing my work everyday on social media, it just ruins everything. I am not saying it's not important. But what's more important is to take new and good photos as frequently as you can.
Street Photography is all about failures. You fail 99% of the time.
Photos Courtesy of Pushkar Raj Sharma