An Interview with Gustavo Gomes by Hon Hoang
Vibrancy, it comes to mind when I stare into the effervescent images captured by Gustavo Gomes. Pictures of his daily life and home. Each photograph echoing the sounds and colors that permeate the streets of Brazil. The culture, the people, and the day to day life that often goes unnoticed is brought to focus in his work. As he inhales to capture a moment, each breath and emotion is exhaled into his images.
What was it like to grow up in Cassia, Brazil? Did it shape how you see and capture Sao Paolo?
It was boring 99% of the time, I must say. There wasn't much to do, except for going to school in the morning, then swimming or playing football at the club in the afternoon. Most weekends we would just hang out in the central square, just watching nothing happening. Our greatest excitement as teenagers were the school trips (1 or 2 per year) and the balls held at the local club on holidays. It's a very small and provincial town. I guess it made being an adult a bit more fascinating. It's always curious to see what's going on in big cities. I'm excited by the simple fact that there's a lot of people out on the streets, there's action. Maybe this is one of my roots as a street photographer.
How much time do you spend in one place, waiting, composing, and anticipating a shot?
Not so long. Maybe 15 minutes, no longer. If I stay too long in a particular spot, I have the feeling that I'm missing something somewhere else, and this feeling keeps me moving.
What typically captures your eye, what makes you stop and wait?
Light, mostly. But also colors, reflections, layers, and certain characters whose expression I relate to, sometimes unconsciously.
What is it in your subjects that make you want to capture them in a moment of their lives?
Hard to answer, but I assume that certain expressions, or feelings suggested by these expressions, are what make me pull the trigger. After years of photographing in public, I realize that in some of my favorite images the main character seems to be immersed in his own world, even in the middle of the crowd, looking a bit melancholic, slightly lost. Or maybe it's just the light that makes them look like this. Or sometimes they just match the environment they're inserted in.
Are there any artists out there that inspires your work?
Yeah, many. My initial influences were Carlos Moreira and Harry Gruyaert. Then Gueorgui Pinkhassov, Alex Webb, William Eggleston, guys who have their own way of dealing with color, light and space. And many other guys not so well known around Instagram and Flickr too. And Win Wenders too.
How do you seek out ideas for your photo-series? How do you plan to keep the work cohesive?
I never plan my series in advance. My process is basically leaving home and wandering around town, capturing whatever calls my attention. Then, after some time I look back and try to make sense of what I've got. If I feel that a group of photos have potential for a series, then I might push myself to keep going back to that place, with this project in mind. I always struggle to edit my own work, whenever I see a third person's cut, it always looks better for me.
(London)
Have you ever been in any confrontational moments when it comes to taking photographs of others? How did you handle the situation and how would you advise others when there is conflict?
Yeah, it happens very often. Years ago, I'd say that I was photographing to learn how to take photos, and I kind of kept this excuse. It's not totally a lie, and it works most of the time. Just saying that you're not working for any press media works well in Brazil. Smiling back works too, even when people look angry. Deleting photos when you're asked to.
Whether they are new and aspiring or experienced, would you have any advice for other photographers?
Keep shooting, even if it's very likely you won't get a great set of images before one year on the streets. Photograph whenever you can. If things aren't working on that day, stop for 20 minutes and get a beer or an ice cream. And don't expect much from street photography. Probably you won't make money or be famous by doing it. So, learn how to take pleasure just by walking the streets and enjoying the experience. When you stop worrying too much about the photos, great photos will come.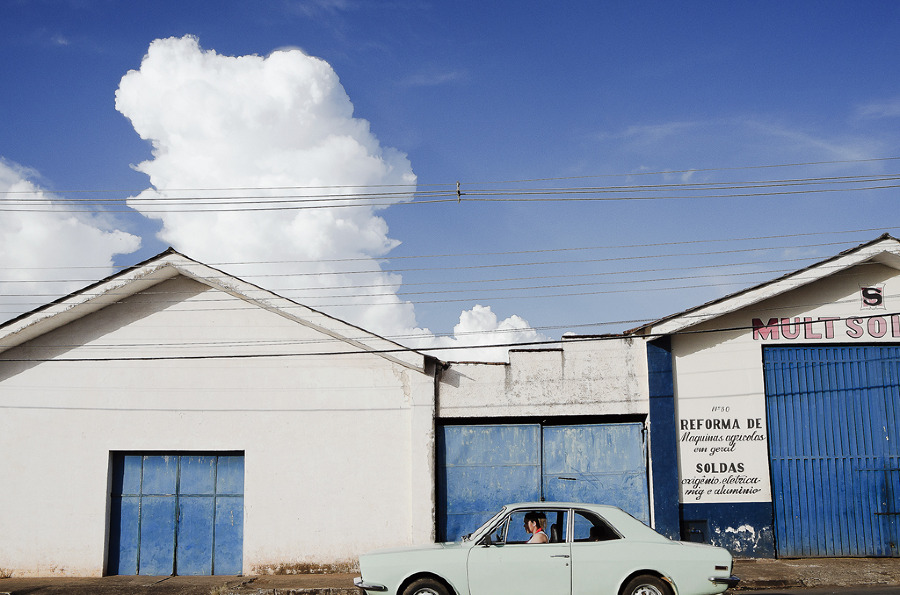 Photos Courtesy of Gustavo Gomes