An Interview with Mahesh Balasubramanian by Hon Hoang
Photographs can transport us. They can take us to a place and time. They can have us remember moments that we never experienced, yet feel familiar. This moment of dissonance happens when humanity is in focus. Though the time and place seen in images may be foreign to us, it is the human condition that stays constant. The love, the joy, the fear, the anguish, the hope; these things persists without boundaries.
Software developer and photographer, Mahesh Balasubramanian transports us to India. Originally from Chennai, he captures the life he sees. Finding balance between his corporate life and passion, he seeks out life, culture, and emotions that transcends the borders of India.
How did you first get into photography?
I love photography since my days in college. I use to shoot with a film camera then. I could not pursue photography due to my busy career. But, I never thought I would seriously get into photography until 2008. I started focusing on photography in 2008 due to stress and a hectic corporate life. It soon became a serious passion. I started taking pictures of people and life.
**Who are some photographers that inspire you?
I have seen many black and white photos / movies made by legends. Those inspired me a lot in my photography. I admire and am inspired by many masters like Ansel Adams, Henri-Cartier, Elliot, Alexx Webb, Raghubir Singh, Raghu Rai, and some contemporary photographers.
I believe in learning by looking to the masters work and understand the different aspects of visual presentation and try to make my own pictures.
With Street photography, do you have an image in mind before you photograph or do you let the moment dictate what you photograph?
I like to capture life on the street. So I never plan anything before taking street pictures. Since, I can't control a slice of life, environment, light and other elements. I always go with an open mind and take pictures of whatever I feel like.
What are you trying to capture when you take a picture? Is it the moment as is? An emotion?
As I said before, I like to capture life on the street. Human emotion is very important to me. The emotion can be happiness, sadness, fear, anger or surprise. I like to capture these through expressions, gestures, posture and eyes. Sometimes, moments create these emotions. It requires patience to observe people for an interesting slice of life. I always try to give more importance to the content than form.
I also have some ethics and I never capture pictures in which exploits a human's conditions / their poverty. Even If I took the picture, when reviewing, if I feel it exploits the people, I don't publish it.
You're close in proximity to your subjects in many of your images, how do you get to this point without them reacting to you?
I like to go close to the people and observe them for some time. I talk / listen to them. After some time, they will forget that I am a photographer and then I try to capture the picture. I like to have foreground and background elements which creates some depth to the picture.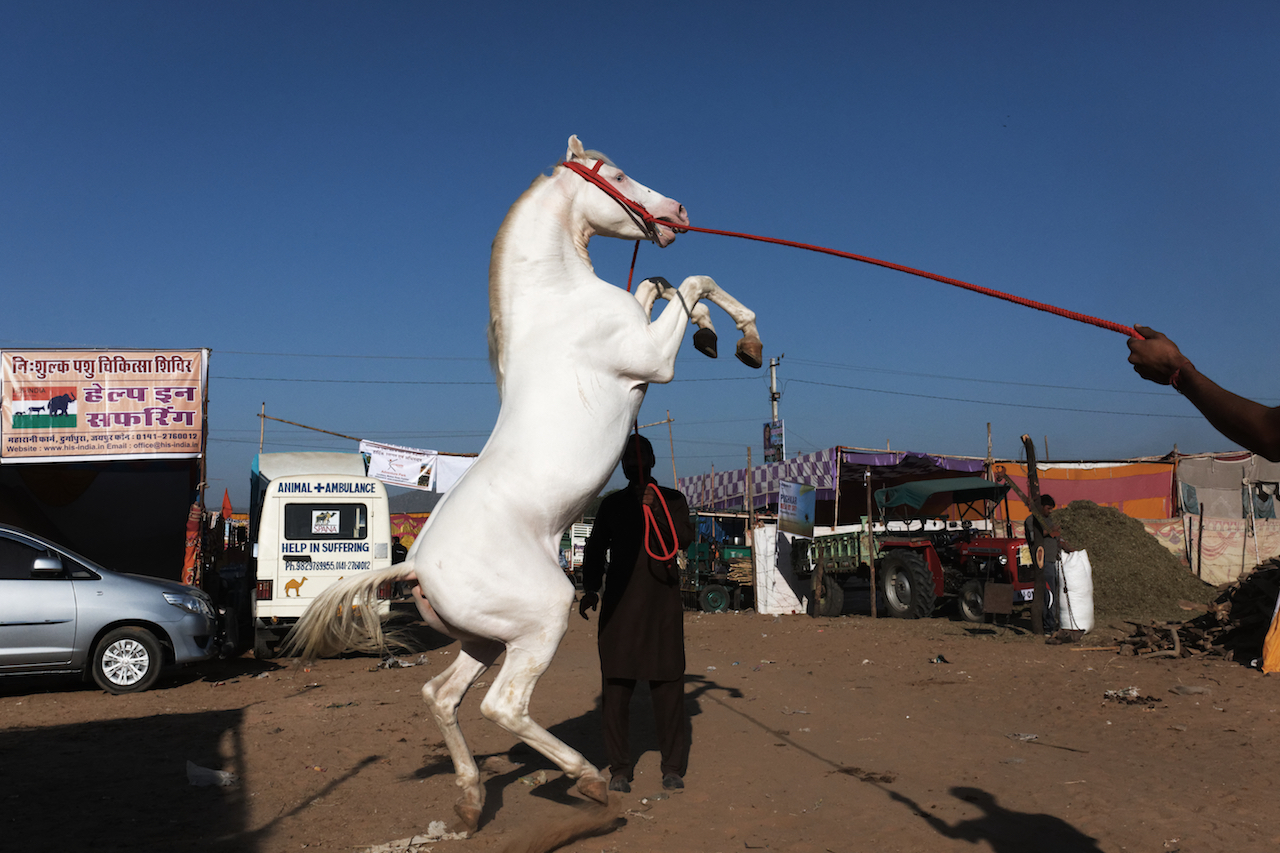 Do you follow moments and situations as you see them or do you wait, anticipating an action to capture?
I think I am doing both these days.
You've been taking pictures for 9 years now, do you see a difference between your photos from year 1 compared to year 9? How have your behaviors as a photographer changed?
There is a big change in my photographs when I compare them to my early days and it keeps changing day by day. Photography changed my way of looking at life. I think photography makes people more humane.
Does your career in software contribute to how you seek out and take photographs?
Not really. When I take my camera, I completely forget about my profession and try to find life.
Do you have any plans to move forward with your photography? Have you submitted your work to any galleries or competitions?
Yes. Photography is the one thing that keeps me moving and keeps balance my life. I do take up commissions / documentary / NGO work.
I have not worked with any galleries. As of now, I don't have any plans. I think I need to work for more years before I approach any galleries.
I have submitted to many competitions up until 2014. After that, I have not yet submitted to any competitions.
3 Honorable Mentions in ND Awards 2014 Honorable Mentions in IPA 2014
Merit Prize Winner – The 2014 National Geographic Traveler Photo Contest
3rd Prize in overall non-professional portrait category, 1 First (GOLD), 2 Second (SILVER) Prizes and 1 Honorable Mention in the PX3 (PRIX DE LA PHOTOGRAPHIE PARIS) 2014
Shoottheface.com Finalist – International Portrait Award – 2014
Winner of 1x Photo Awards 2013
1 Honorable and 1 Nominee in 2013 Black & White Spider Awards
2 Honorable Mention in IPA 2013
WINNER of Shoottheface.com International Portrait Award – 2013
Would you have any advice for new and beginning photographers? What was some of the best advice you were given?
I suggest all my friends to believe in you and take pictures that stands out from the crowd. Read a lot about pictures from masters and understand what made them shoot in that way.
The best advice which I ever got is, "Take pictures from your heart and for yourself. "
Photos Courtesy of Mahesh Balasubramanian